AzBCR POST FROM LINDA:
Well, this weekend Madeline got to go up to her ranch up north, just west of Seligman at the base of Black Mountain. She arrived there late Friday night and Mom and Dad quickly unloaded her and her two brother mules and put them to bed in the barn.
Come Saturday morning early, our traditional little friend was perched on his pole by the barn doors to greet us at feed time.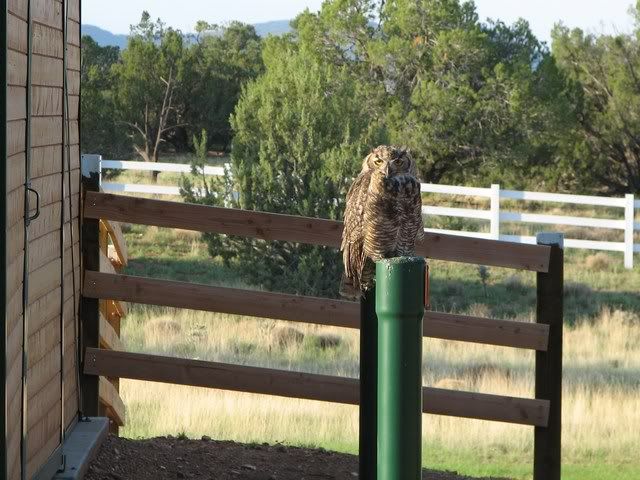 Madeline was cozy in her stall, checking out her shavings.......something she's never seen before and in general just checking out everything......with her ball in tow.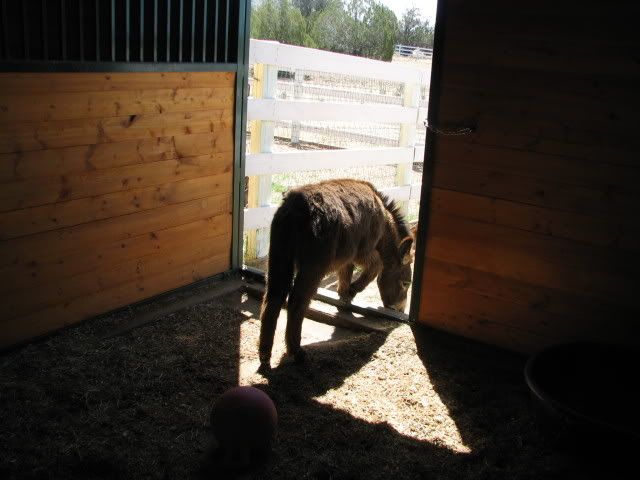 Madeline was so excited to see us she had to show us she had been checking out not only her inside stall in the barn, she had checked out her outrun and rolled in it, her favorite pass time.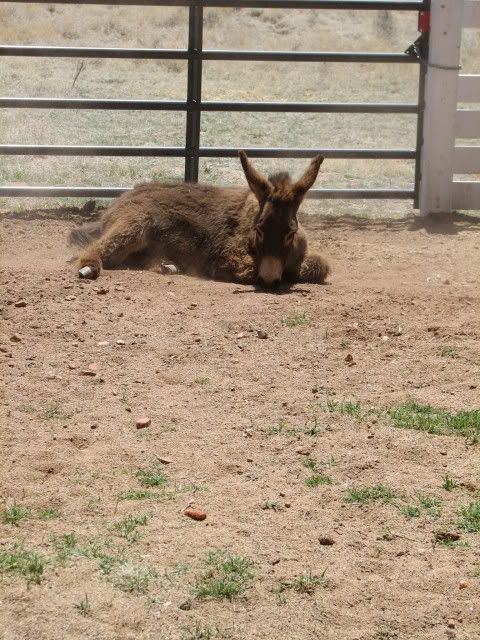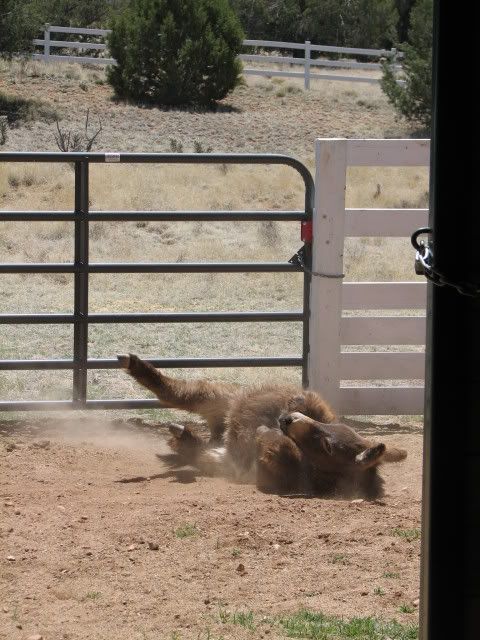 Then after Madeline ate her breakfast, Mom and Dad were working in the barn so Madeline got to come out of her stall and run loose in the breeze way helping Dad.......She was great help!!!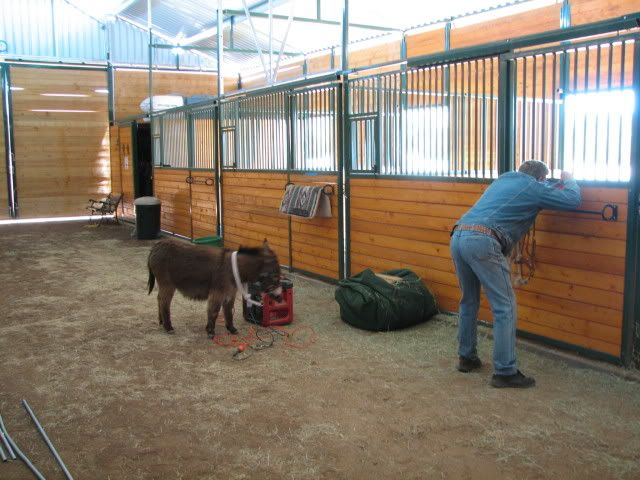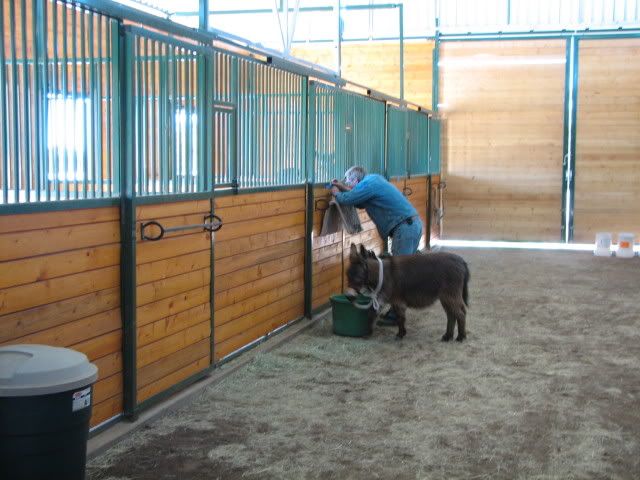 Now Mom gave Dad a break and took Madeline out for a walk on her 38 acres so she could check it all out.........She loves her strolls.......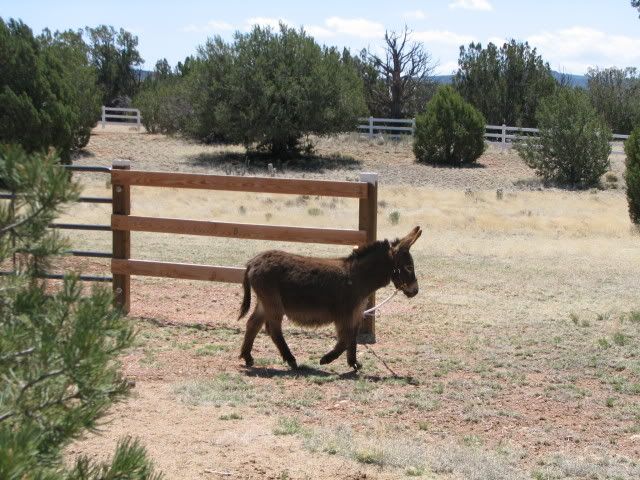 She past up the rig and found a park bench by the camp fire pit and decided to stop and graze a bit.....
Madeline continued down the driveway and found one of Dad's projects he had built off the side of the drive and had to stop and check it all out...and do more grazing.
She went a little further down the driveway and stopped at the carriage crossing sign......she kept waiting and waiting and the carriage never came so she went a little further....
She then came to the gate entrance and found another sign, "Slow, critters at play" and stood there checking it all out......and the next picture shows something she saw just outside the gate out of the corner of her eye that caught her attention......This something was just her size......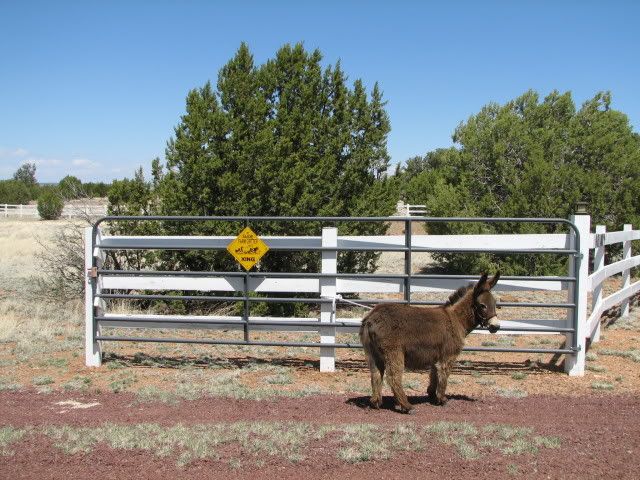 Her buddy she found...outside the gate......she truly loved him.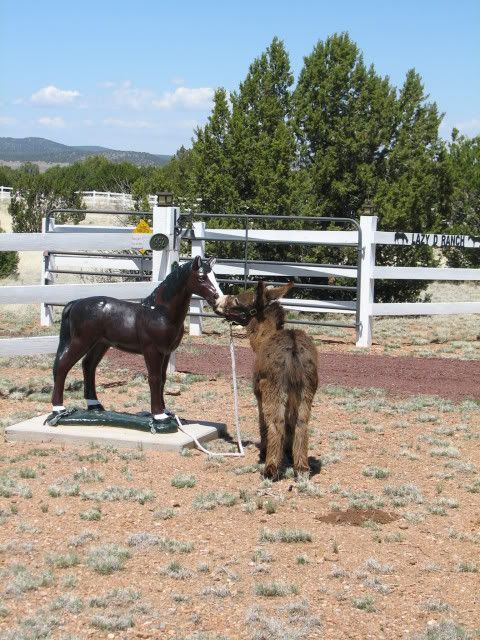 She then went and stood watching everything from the front gate.......grazed a bit, and just checked everything out....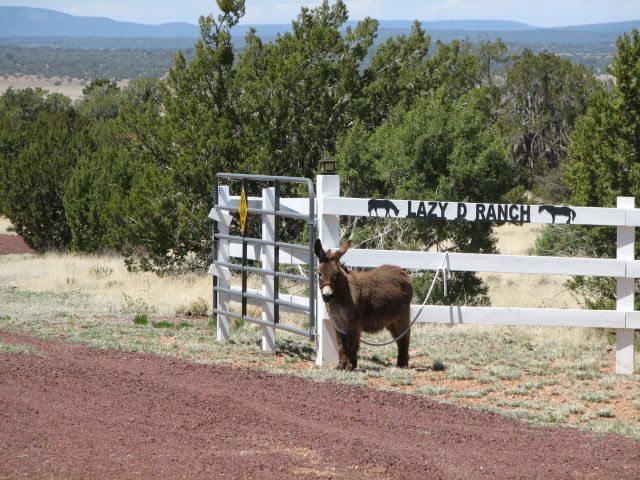 Mom then took Madeline back up the driveway and to the barn to get her big brother mules.....so the mules could go on their (3 way) hobbles (perimeter fence is not complete yet) so they could graze out in the pasture with Madeline.....
more grazing........and now Madeline is in hobbles too only hers are front feet only!!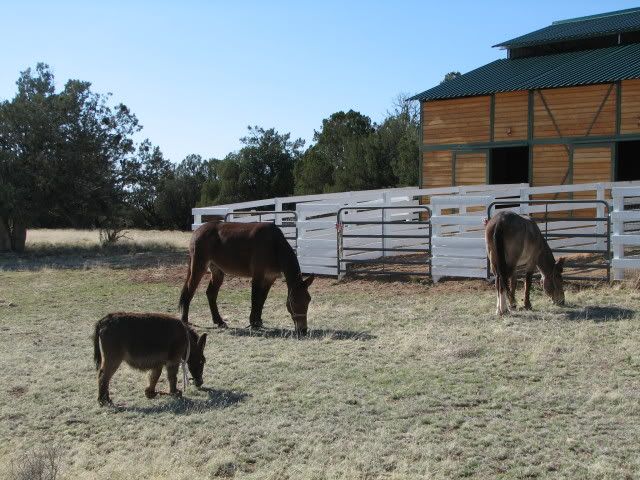 See Grandma, (paintedpromise), I learned to hobble.........
Hope you enjoyed Madeline's little trek to her ranch up north. Madeline also found she had some outside pipe corrals in various campsite places on her ranch for guest to come and join her sometime. So if ever there is anyone wanting to come camp with her for a weekend, there is room for you to camp and some stalls to use. Madeline will be headed to Williams this next weekend for the Lone Ranger trail ride........ Till next time...............
David and Linda