Here is Madeline at the Big Caballo Del Sol trail ride, she was the hit of the event with lots of people coming to see her as they'd walk past our campsite. Everyone just loved her and was amased at how well adapted she was to just being there. This was a week long catered trail ride with 160 people from various states and was held in Kirkland Junction at Coopers Ranch an angora goat farm and cattle ranch.
As soon as we got there on the 21st....Joe a friend of ours a.k.a. Joeroadapple on this forum (AzBCR)......took off with Madeline and her halter just as soon as we got her unloaded. We had not even gotten the mules unloaded yet. He walked Madeline all around to the various camp sites of people already there asking "if they liked his backside"......." the doctor told him he had to walk his backside" you fill in the right word, and was gone for a little over an hour while we got the rest of our campsite all set up. He was quite cute out there a walkin with his big tall hat, little belly and boots on with his little backside behind him just a strolling along .....
This is Madeline camped out on a ground stake for part of the afternoon. She would play in her playpen corral with her ball as we'd all ride off for the days ride.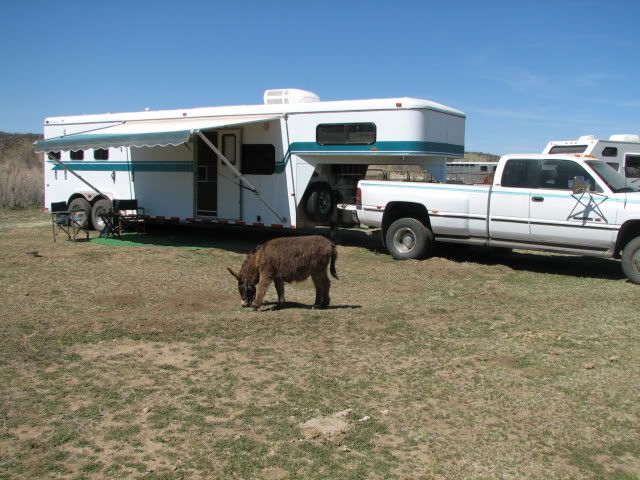 Here is Madeline with her "Auntie" Linda Kay watching the champagne races one afternoon. They held after the half days ride mid week a fun day of events for those whom wanted to participate and those whom wanted to watch as the events unfolded. The best one was of the guy on his horse trying to balance his champagne glass and trot by with others in tow, he gave up, said the hell with it and just drank it !!! They had hot dog races and you name it......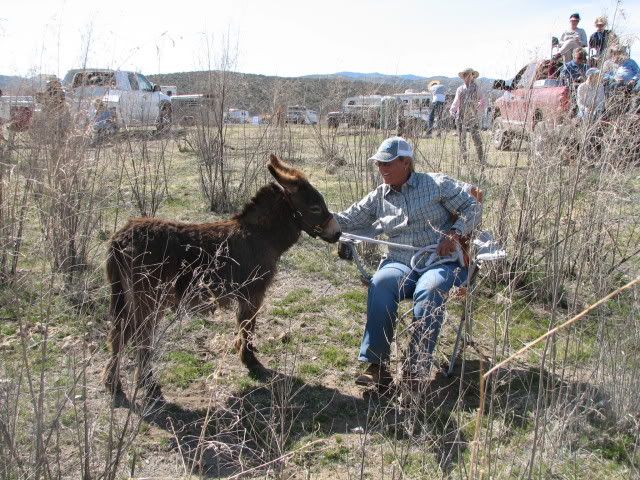 Here is Dad taking Madeline for her first river walk down the river. Oh, it was all pure donkey at first......all four feet balking at getting even a foot in it, but boy, once she got in, she loved it!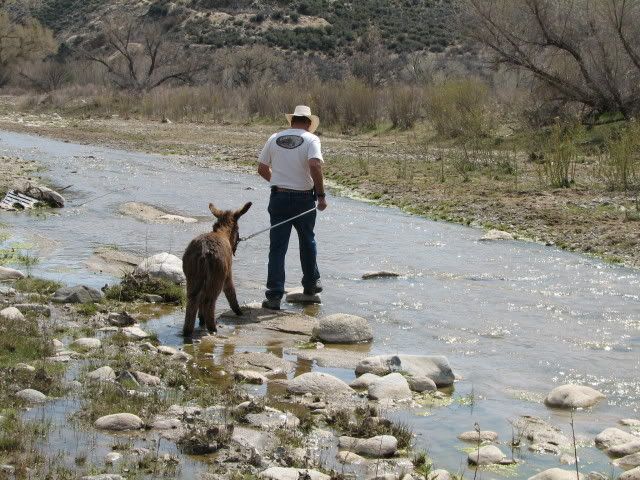 Here she is just a walking away, did not care at this point how deep it got as she trolled along.............
Oh boy did she love her Dad as he wet her all down..........just stood there soaking it all in.....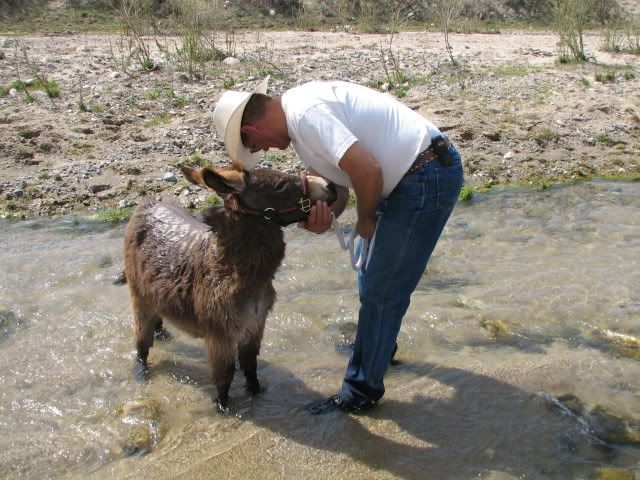 Hope you enjoyed Madeline's little trip........till next time !!!! Her next event will be the Gardner Canyon Trail Ride this next weekend April 4th and 5th. Hope to see you all there ....
David and Linda